Ditto Daddy
tm
Trainers - Adorable just got Practical
!
Ready to get your little one in some Ditto Daddy Trainers!
For more information or to purchase, send an email request!


These adorable trainers are constructed to look just like big kid or even adult underwear. They give your potty learner the incentive to stay dry and feel grown up.
All trainers feature a snap-in insert. For small accidents, the insert may just need to be changed. Inserts can be backed with PUL for a little water resistance.
All styles are designed to be made with stretchy cotton knits. Fleece also works well for most styles. It adds bulk but offers a little water resistance.
All styles are available in sizes: 12 months/18 months/2T/3T/4/5/6/7/8 They are said to fit true to average size - I find the briefs fit a bit small. Measurements of the Waist and Thigh are recommended to ensure a better fit. It is important for trainers to fit snug in order to reduce the chances of leaking.


Prices:


All trainers include 1 bamboo snap-in insert backed with PUL
Boxer Briefs - cotton knit $18 (comes with regular insert)

Briefs:
(comes with trim insert)
Double Layer - cotton knit outer / bamboo inner $19
Fleece Night and Nap Briefs or Boxer Brief - $20 (comes with regular insert)


Dry Nights Boxers - $24
(All Fleece)
Includes 1 beefed-up insert
Add $3 for optional snap on Doubler
Additional Inserts: (see picture and descriptions at bottom of page)
Beefed-up insert $10
Regular Insert $8
Trim Insert $6
Ditto Daddy
tm
Trainers come in the following styles:





Dry Nights Ditto Daddy Boxers

are a good option for overnight, especially for older childern. They are generously sized and sewn in all fleece for a soft feel with two layers of dryness protection. They come with your choice of a "Beefed-up" insert or a standard insert. For heavy nighttime wetness, there are optional PUL backed inserts and/or a second row of snaps for a double insert.
(pictured are Dry Nights Ditto Daddy Boxers for boys in all fleece with double inserts for heavy nighttime wetting)
(pictured are Dry Nights Ditto Daddy Boxers for girls in all fleece with a regular insert)
Boy Boxer Briefs

Super cute with a mock fly to look just like Daddy!
(pictured are boy boxer fleece with a beefed-up insert and one in cotton knit)
Girl Boxer Briefs

Just like the Boy Boxers but with a snap or button front rather than a mock fly.
(pictured is a girl boxer brief in cotton)
Briefs

(for boys or girls) Like a pantie or a brief. The snug fit is great for preventing leaks.
(pictured are the inside and outside of briefs in cotton knit and inner Bamboo)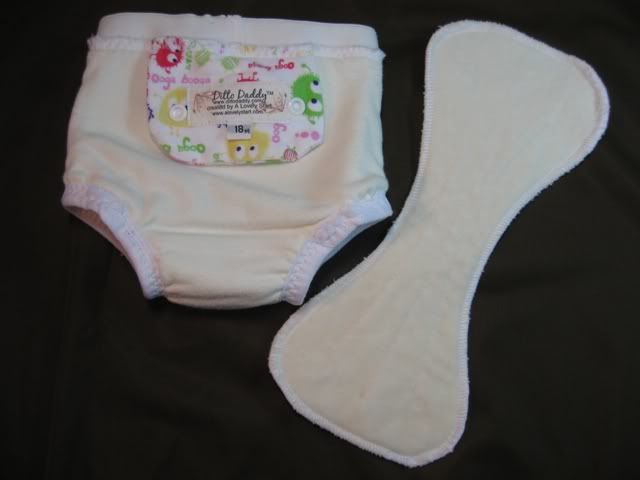 Insert

Snap-In inserts are made from soft and thirsty Bamboo Fleece and/or Bamboo Terry and topped with Bamboo velour. They have stitched "ditches" to help keep liquids on the pad and not running off. They can be backed with a layer of PUL for a little water resistance. I do have some other options for soaker fabric if you are looking for something else.
Pictured left to right: Beefed-Up Dry Nights Insert, Regular Insert, Trim Insert